How to Search on the Record
The Compact Office hopes you are enjoying the new website. The Compact Office is working on scheduling webinars in the upcoming weeks. In the meantime, we wanted to explain how filers can search for Uniform Standards and the corresponding checklists on the Record page.
The Record has been updated to allow filers to search for Uniform Standards. There are a few ways to search for a particular Uniform Standard: you could search by keyword, and you could search by Product Type, Filing Type, and Record Type. You can choose to complete all three search criteria, search using just a keyword, or choose any variation of these features to search as narrowly or as broadly as you like. Also, the Record is designed to pull up all applicable Uniform Standards under each criteria type, even Uniform Standards that apply to more than product type, so if you were to search for a specific product under Product Type, the search results will pull back all applicable standards under that product line. Click on the down arrow to see the available fields for searching. We will note, if you are looking for the group Uniform Standards, you will want to add "Record Type" to your search and select the Group Uniform Standards.
Once you find what you are looking for and click on a Uniform Standard, you will see the Document tab shows the text of that Uniform Standard. You also have the option to download a copy of the Uniform Standard by clicking on the Download PDF button. Checklists can be found on the bottom of the Overview tab, and checklists for most Uniform Standards can be accessed by clicking on the Standard Checklist button.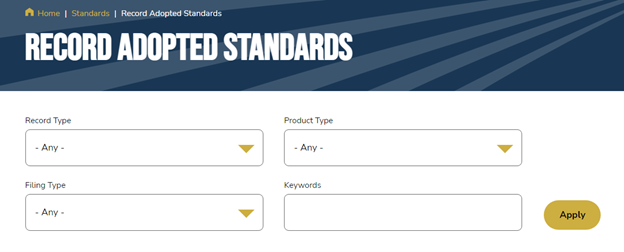 If you have any questions or feedback, contact the Insurance Compact Office.